Pre-Christmas season
What could be better in the run-up to Christmas than strolling across the Christmas markets, getting some inspiration from the festive decorations and sipping a mug of hot mulled wine? Munich is the perfect place to do just that, and we have searched out the best Christmas markets for you. Take a look and enjoy the beautiful pre-Christmas season.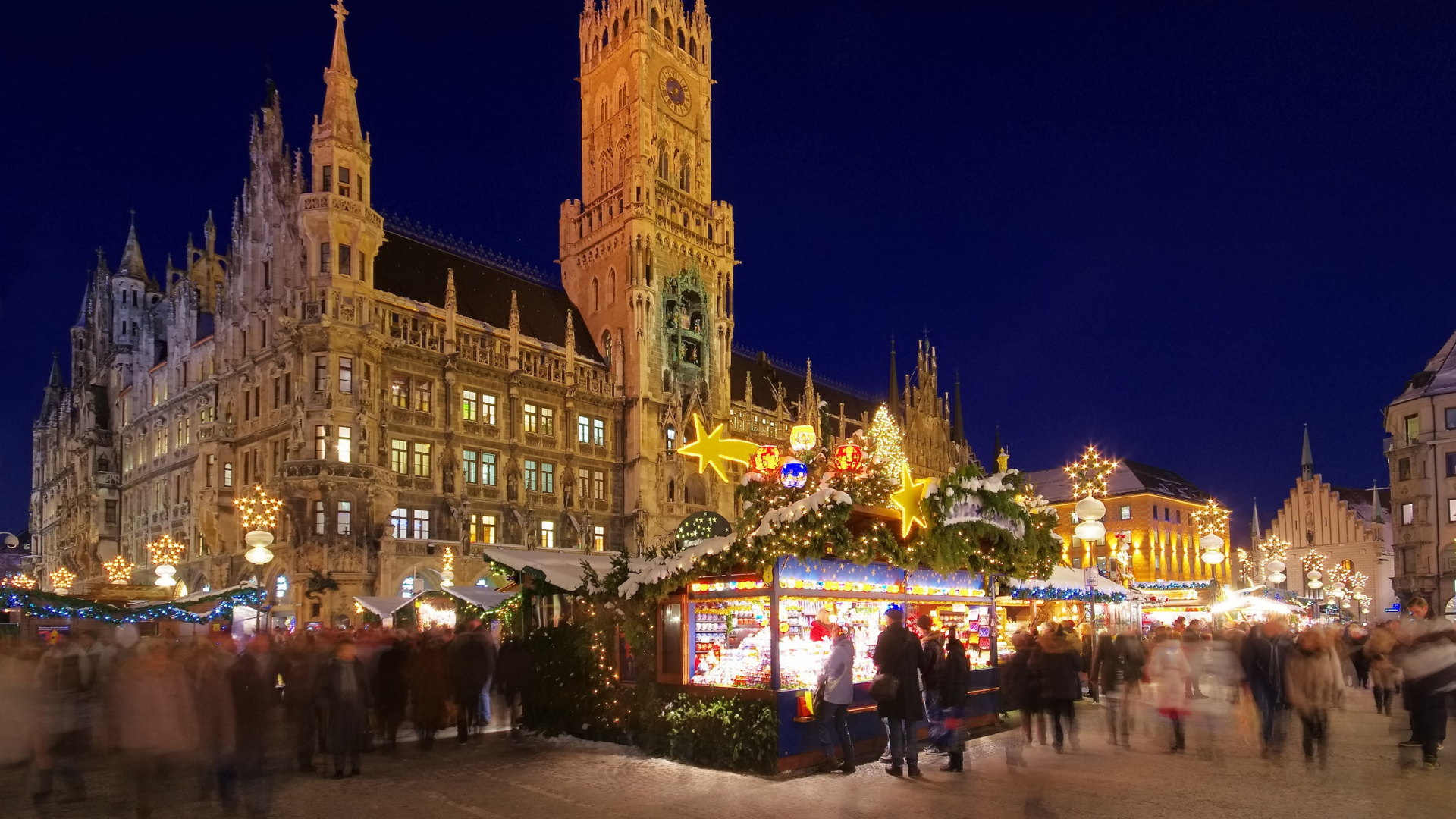 Altstadt
Munich Christmas Market at the Marienplatz
Marienplatz and in the pedestrian zone
21.11 – 24. 12. 2022
Homepage
Winterzauber auf dem Viktualienmarkt
Viktualienmarkt
21. 11.22 –  7. 01. 2023
Homepage
Winter magic at the Viktualienmarkt
Karlsplatz-Stachus
18.11.2022 –  15.01.2023
Homepage
Christmas Village in the Imperial Courtyard of the Residenz
Munich Residence, entrance Residenzstraße, Odeonsplatz
17. 11 – 23.12. 2022
Homepage
Christmas Market at Sendlinger Tor
Sendlinger-Tor-Platz
21.11 – 23.12.2022
Homepage
Munich Advent Spectacular and Medieval Christmas Market
Wittelsbacher Platz, Briennerstraße 6-10
21.11 – 23.12.2022
Homepage
The Munich Feuerzangenbowle at the Isartor
Isartor
21.11.2022 – 8.01. 2023
Homepage
Glockenbachviertel Ludwigsvorstadt
Tollwood – the winter festival
Theresienwiese
24.11 – 31.12.2022
Homepage
Pink Christmas, the queer Christmas market
(for Stephansplatz (near Sendlinger Tor)
24.11 – 23.12.2022
Homepage
Neuhausen-Nymphenburg
Neuhauser Christmas Market / Christmas Market at Rotkreuzplatz
Rotkreuzplatz north side and south side
21.11 – 23.12.2022
Homepage
Haidhausen & Bogenhausen
Haidhaus Christmas Market at Weißenburger Platz
Weißenburger Platz
22.11 – 24.12.2022
Homepage
Schon seit vierzig Jahren findet der Haidhauser Weihnachtsmarkt statt – für manche ist er der schönste Christkindlmarkt Münchens.
Mulled wine festival in Bogenhausen Christmas magic forest
Festival area in front of the Cosimabad (Cosimastraße/corner Englschalkingerstraße)
17.11 – 30.12.2022
Homepage
Schwabing
Schwabing Christmas Market at the Munich Freedom
Forum Munich Freedom
25.11 – 24.12.2022
Homepage
Olympiapark
Fairy tale bazaar in the Olympic Park
Summer Tollwood grounds, Spiridon-Louis-Ring 100
24.11 – 29.12.2022
Homepage
Werksviertel-Mitte
Magical Christmas market in the factory district
Knödelplatz (near Ostbahnhof)
2. – 11.12. 2022
Homepage
Schlachthofviertel
Starfleet on the Old Utting
Lagerhausstraße 15 (near Großmarkthalle)
23.11 – 23.12.2022
Homepage
The moonlight express – a Christmas market at the railroad guard Thiel
Bahnwärter Thiel, Tumblingerstraße 45, Atelierpark
23.11 – 23.12.2022
Homepage
Giesing & Sendling
Winter rush in the witch's house – Kulturcafé Gans Woanders
Kulturcafé Gans Woanders, Pilgersheimerstraße 13
24.11 – 31.12.2022
Homepage
Winter magic goose on the water
Café Gans am Wasser in the Westpark at the Mollsee lake
25.11 – 18.12.2022, always Friday till Sunday
Homepage
Flughafen Munich & Pasing
Weihnachts- und Wintermarkt am Flughafen München
Flughafen Munich
18.11 – 26.12.2022
Homepage
Pasinger Christmas Market
Schererplatz, in front of Maria Schutz Church
26.11 – 18.12. 2022, Sat/Sun only
Homepage