Celebrate World Cocktail Day at one of these world-class haunts

15 of Germanys Best Cocktail Bars
This Friday, 13 May, 2022, marks the 216th anniversary of the cocktail.
In the 13 May, 1806 edition of a long-defunct New York periodical called the Balance and Columbian Repository, editor Harry Croswell (who would go on to co-found Hartford, Connecticut's Trinity College in 1831) provided the world's first published definition of the beloved beverage-genre:
"Cock-tail is a stimulating liquor, composed of spirits of any kind, sugar, water, and bitters—it is vulgarly called bittered sling, and is supposed to be an excellent electioneering potion, in as much as it renders the heart stout and bold, at the same time that it fuddles the head. It is said, also to be of great use to a democratic candidate: because a person, having swallowed a glass of it, is ready to swallow any thing else."
In celebration of the cocktail's anniversary, we've put together a guide to fifteen of the best cocktail bars in Germany. Before you celebrate, however, remember that this Friday falls not only on the 13th day of the month, but during World Mental Health Awareness Week as well. Take that as an omen, take it as a test, take it as a wry cosmic joke—take it how you will. Whatever you do, just remember to enjoy your cocktails responsibly.
Prost!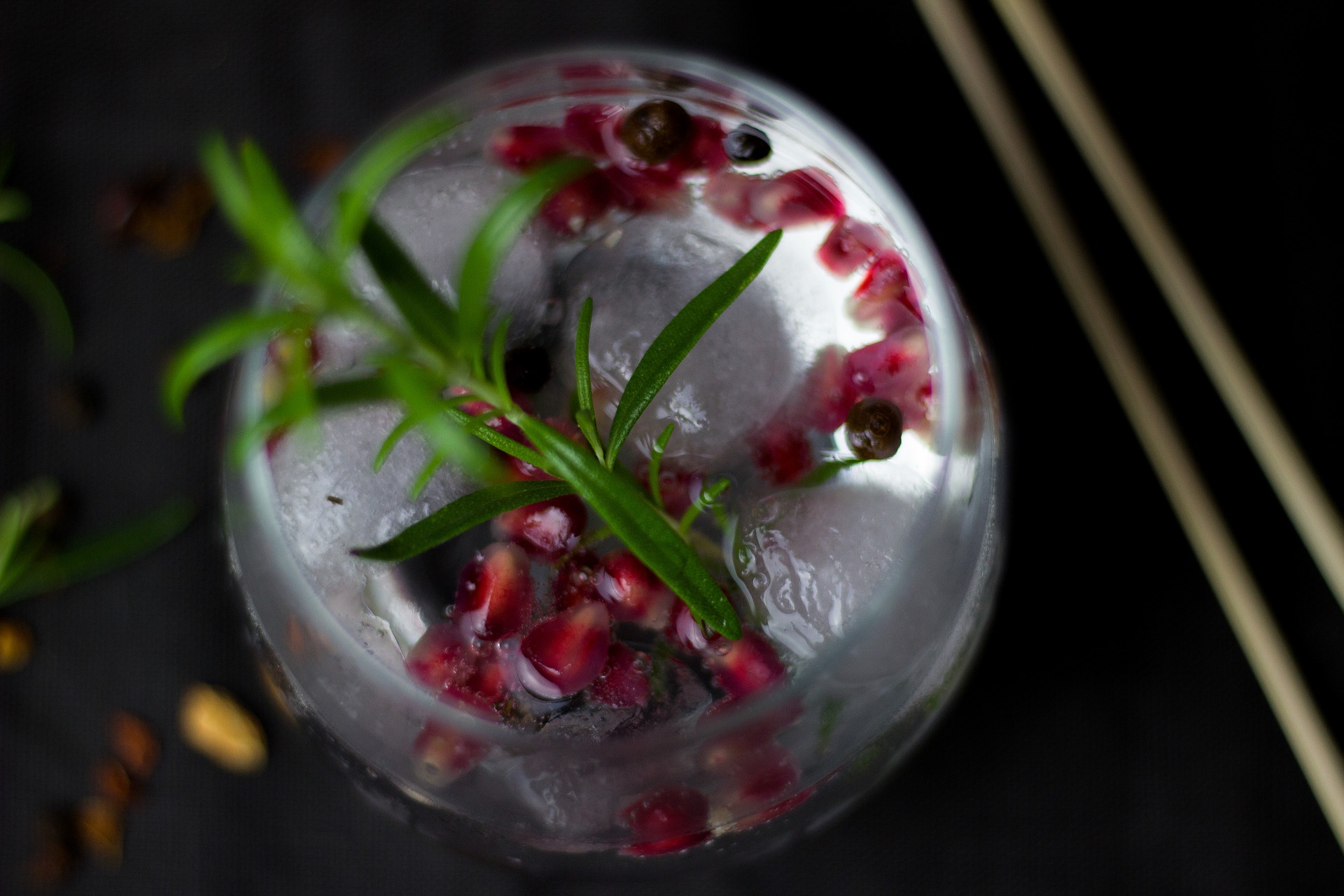 BERLIN
Becketts Kopf
The name means "Beckett's Head"—as in Samuel Beckett—and you'll have to look for his iconic face if you want to locate the entrance to this intimate cocktail bar in Prenzlauer Berg. Although the tastefully decorated room may be one of the smallest in town, all you need is a stool or two by the bar to enjoy a selection of cocktails that range from the time-honored to newer more adventurous creations, like the Rashomon, which mixes gin and sake with a touch of cream. The selection of individual spirits may not be as exhaustive as in some bars, but it's always well-curated and they keep a selection of cigars on hand, because sometimes that's just the way the evening goes.
Pappellallee 64, 10437 Berlin
Buck and Breck
This small cocktail bar—which recently earned the distinction of best bar in Germany at the Mixology awards—has a devoted following among those who know how to find it. Although it is located along a major street in Mitte, just north of busy Rosenthaler Platz, you might end up walking past what appears to be an abandoned shop front. Behind the unmarked door awaits an ultra-minimalist interior featuring a single table with fourteen stools built around a modest bar area. The menu—which, in the spirit of Milk & Honey, follows the "bartender knows best" model—offers a reasonably small selection of modified classics, but each drink is prepared with the utmost attention to detail. While the room is quite small, a one-in, one-out door policy ensures that it never gets overcrowded.
Brunnenstraße 177, 10119 Berlin
Green Door
There's a sign outside, but the door—green, obviously—is locked. Ringing the doorbell activates a light in the bar, and if any one of the staff sees it, they might come and let you in. But don't let the uncertainty put you off: once you've passed the admittance test, you're free to enjoy some of Berlin's most skillfully mixed cocktails in one of the most stylish rooms in town. While the menu offers a few house specialties and clever twists, the focus is primarily on 20th-century classics, prepared with high quality ingredients. Much of the interior is taken up by the long, dark wood bar—there are a few stools against the undulating side wall and only a handful of actual tables—but the mood is relaxed and the crowd is unpretentious.
Winterfeldstraße 50, 10781 Berlin
COLOGNE
Suderman
Away from Cologne's party districts – in the lovely Agnesviertel – Felix Engels and Dominque Simon have created the perfect blend of traditional pub and stylish cocktail bar. This gorgeous 50s-style place oozes attention to detail with vintage elements such as the sweeping bannisters, dark leather, metal light fittings and wooden features that would give any carpenter a thrill. This emphasis on quality is reflected in the menu, with its unique, seasonal, creative and, above all, delicious drinks. One house favorite, the Nikkey Sour, plays with elements from Europe and the Far East. Pisco infused with pear and rosemary, sake, fresh grapefruit, lemon and Peychaud's bitters combine to produce an exhilarating energy boost.
Sudermanplatz 3, 50670 Köln
Ona Mor
Don't be fooled by Ona Mor's unimposing exterior. Draw back the heavy curtain and you'll find yourself in one of Cologne's best cocktail bars. The service – superb and structured – only adds to the splendour of the place. The staff take your coat for you, accompany you to your table and bring you water and truffle popcorn along with the menu. Paul Thompson, the current holder of the Deutsche Barkeeper Union's "Germany's best barkeeper" title, is the man behind the bar.
Ona Mor has a tasteful, old-school look with dim lighting, sparkling crystal glasses, bulbous glass carafes, apothecary-style accessories, comfy sofas, and fake crocodile-skin bar stools. Giving the place a new, modern twist are the "menu trees" – metal objects placed on each table, with drinks menus attached to their delicate "branches". Guests can use these mini-postcards to help them make their choice and then take them away as a souvenir.
Roonstraße 94, 50674 Köln
Little Link
In the Belgian Quarter – Cologne's creative epicenter – Litte Link's owner and bar manager, Stephan Hinz, collects awards as if they were stamps. To date, these have included Falstaff German Bartender of the Year 2017/2018, World's Best Bar Selection 2016, and fizzz Awards 2015 Most Innovative Bar of the Year, to name only a few.
Little Link is big on bold, serving creative high-end drinks. From the Currywurst cocktail with serrano vodka to the Nordic Man with aquavit and buttermilk to the Goatherd with gin, goatherd cordial and saffron, it seems there's no end to the aproned team's imagination. Despite all the prestige and laboratory-style concoctions, Little Link is very much a no-frills place, shunning dress codes and darlingdom. Its decluttered decor provides a wonderful contrast to the extravagant drinks. Open brickwork, dark wood, leather and a few cacti decorate the magnificent bar. Little Link also offers classic cocktails and an impressive bourbon selection.
Maastrichter Straße 20, 50672 Köln
FRANKFURT
Shuka Bar
A Japanese-inspired spin on the speakeasy, Shuka Bar's drinks menu pays particular attention to exclusive sake. A bright mix of new and vintage furnishings fill the compact 48-square-metre space – think beehive-inspired pendant lights and moody red wallpaper swirling with peacocks and grapes. Hidden inside The Trip, Frankfurt's second 25Hours hotel, which opened in Summer 2020, the bar has just 15 seats – ensuring a cosy night out if you're looking for somewhere datey, whether you're trying to impress that Superlike who liked you back, or just wanting to unwind in style for a change with your boo.
Niddastraße 56, 60329 Frankfurt
Logenhaus
Fans of gin, look no further than Logenhaus. In a historic villa bursting with vintage furnishings and accessories, this bar boasts some 80 varieties. The smartly dressed staff match the stylish interior – comprised mostly of living room-style sofa and armchair seating – while classic cocktails and the in-house mixologist's monthly changing creations dominate the menu. Try the Last Word, an infusion of gin, chartreuse verte, maraschino and lime. This spicy drink was first concocted during the Prohibition era in the States but was forgotten for decades until Logenhaus introduced it to German palates. The bar's accompanying Night Saloon (a smoking lounge) leads on to a winding terrace area with English tea house-style tables and chairs.
Finkenhofstraße17, 60322 Frankfurt
Hunky Dory Bar
Too lazy to leave the comfort of your seat? No worries – at Honky Dory bar, just dial up your drink. In this cocktail bar crammed with flea market finds from the 1930s and 1940s, seven wooden booths have black vintage rotary phones on speed dial to the bartender, who will deliver signature cocktails such as the BreakPoint (hibiscus vodka, apricot brandy, agave syrup, lime and pickled chilli) or Penicillin (Dewar's 12 scotch, honey, lemon, ginger and Laphroaig 10 scotch served in a syringe) directly to your table. You can also sit at the bar, which seats up to 22, or on the rooftop for views of the Frankfurt skyline. For a small bite, tapas-style dishes range from salmon and tuna tartare to Flammkuchen (a German pizza with crème fraîche, chopped onions and smoky bacon). While the name Hunky Dory pays homage to David Bowie, you won't find any rock 'n' roll memorabilia among the model sailboats, medicine bottles, badminton rackets and other trinkets inside.
Baselerstraße 10, 60329 Frankfurt
HAMBURG
The Chug Club
This cool, dark bar is a bit dingy in all the right ways. The Chug Club might be described as a Mexican style speakeasy, but it's so much more. Agave is the main actor in this bar and you'll find tequila served in everything from their house margarita (which involves buttermilk!) to something more fleeting like their Chug of the Day. What's a 'chug', you say? It's a mini-cocktail, about a third the size of the regular, which is a brilliant way to get more variety in your night's drinking without over-consuming. The high shelf surrounding the little bar is covered with tequilas in various states of infusions. Plus, the owner, spent some time at Le Lion before opening on this tiny tequila spot, so there are some serious skills behind the enterprise. And guess what? They have a chug taster selection of five mini-cocktails with a little beer break at the midway point. It's the perfect way to work through a few.
Taubenstraße 13, 20359 Hamburg
Atlantic Lobby Bar
Head to this historic high-end hotel bar for something a little more special. The Atlantic has been standing for over 100 years and was originally built to welcome passengers arriving to this port city on luxury ocean liners. What's more, it still serves as a go-to for Hamburg's high society. The bar covers most of the large and spacious lobby, with comfy leather arm chairs and loveseats packed with guests quietly chatting or just silently sipping while listening to the live piano. Their selection of signature drinks includes the refreshing and well-balanced Admiral Schley, with its interesting melange of bourbon and cachaca. Classy touches include crunchy cocktail snacks served in silver dishes and sophisticated, eco-friendly glass straws.
An d. Alster 76, 20099 Hamburg
Le Lion
Once upon a time, Le Lion was considered the trailblazer on Germany's speakeasy-inspired craft cocktail scene, as well as ground zero for the modern classic Gin Basil Smash. This sophisticated cocktail lounge delivers five-star service and drinks, securing the tight team an internationally-recognized reputation as one of the best in the business. Ring the bell at the imposing black door for entry (but do call ahead of reservations). Pro-tip: their martini, served with a topper-upper on ice and and a dish of huge, delicious olives, is one of the best in town.
Rathausstraße 3, 20095 Hamburg
MUNICH
Schumann's Les Fleurs du Mal
A popular post-opera haunt located on upper level of Schumann's Bar am Hofgarten, Schumann's Les Fleurs du Mal is one of the most established bars in Munich. With a single 27-foot-long table crafted out of a single walnut tree, the decor fosters conversation, as does Dietmar Petri's impressive cocktail menu, consisting of so much variety (150 types of whiskies, absinthes, cognacs and other rare spirits) that you'll inevitably need to ask your neighbor for some advice. May offerings feature unusual twists, such as a carrot espuma or balsamic reduction.
Odeonsplatz 6-7, 80539 München
Goldene Bar
Built in 1937 and located in Haus der Kunst, Goldene Bar features an ornate outdoor terrace and an extensive cocktail list that's attracted discerning cocktail aficionados in droves. Expect homemade bitters, soda and an array of special syrups like chamomile, passion fruit and agave. Exemplary drinks include the hot buttered coconut rum, made with hot coconut water, Falernum syrup and homemade herbed-and-spiced butter.
Prinzregentenstraße 1, 80538 München
Auroom
Have you ever had a Snickers bar martini, a Thai Tom Kha soup cocktail, or a wasabi-tea-infused gin? You probably haven't, unless you've already spent a night or three sampling the extensive menu at Auroom. Considered one of the most creative and well-rounded cocktail bars in Munich, the stylish yet unassuming Auroom is run by decorated, world-renowned mixologist Alex Wimmer, whose chops with spirits are rivaled only by his warm and attentive service behind the bar. I myself have a signature cocktail at Auroom, which I developed one afternoon with Mr. Wimmer. It's called Bonfire at the Beach, and it's my favorite drink ever. Period.
Hans-Sachs-Straße 20, 80469 München