Our picks for the top three sushi spots in Germany's five largest cities
Germanys 15 Best Sushi Restaurants
When it comes to sushi, there's really no middle-ground: there's good sushi, there's great sushi, and then there's everything else. A mediocre Alaska Roll is a bad Alaska Roll, and unfortunately, outside of Japan, mediocre is what you're most likely to find. There are exceptions, of course, and that is why we went to the trouble of seeking out the best of the best for all tastes and budgets in Germany's five most populous cities. Arranged here in alphabetical order are our top three picks for sushi in Berlin, Cologne, Frankfurt, Hamburg and Munich. Mahlzeit!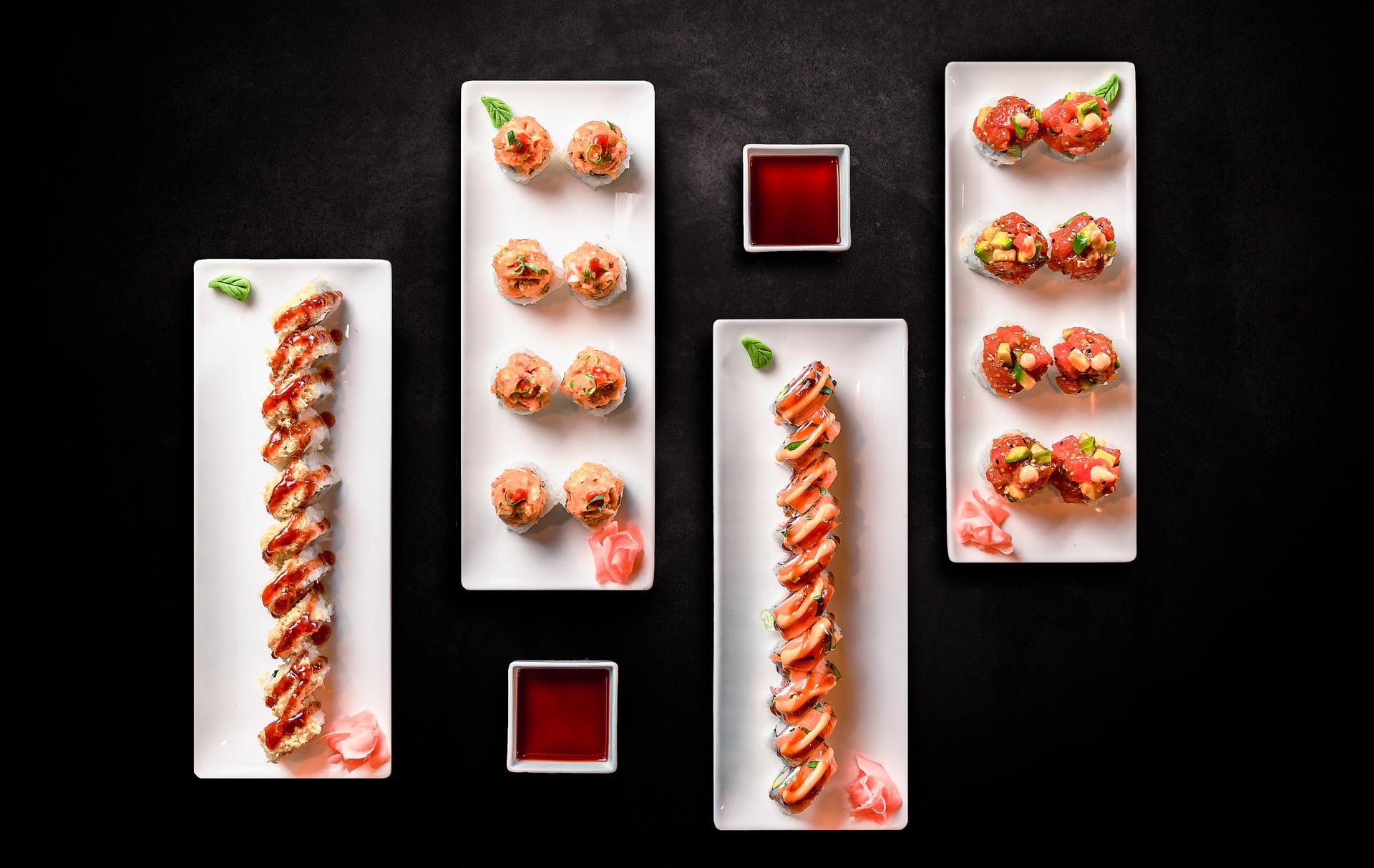 BERLIN
Opened in 1995, Germany's first Kaiten sushi bar is widely considered to be Berlin's best sushi restaurant. This Charlottenburg institution is simply a must for sushi lovers.
Jeanne-Mammen-Bogen 584, 10623 Berlin
Late 2019 saw two veterans of Berlin's Japanese culinary scene—Tomoya Sakashita and Takeshi Seto—team up to open the restaurant they had always dreamed of. The focus at San is undoubtedly on the quality of the fish, which is sourced from select fishers across Europe. Building on this foundation, San offers a refreshing mixture of elevated gastronomy and middlebrow crowdpleasers: here, fried rolls and experimental nigiri can, and often do, grace the same plate.
Weydingerstraße 22, 10178 Berlin
The Japanese deli in Mitte is famous for its wide variety and high quality. Sushi-lovers from all corners of Berlin make the pilgrimage to Smartdeli for all manner of sashimi, maki, inside-out rolls, deluxe rolls and nigiri. For those with an appetite for something other than sushi, a wide selection of soups, gyoza, bento boxes, dons and more wait in store.
Novalisstraße 2, 10115 Berlin
COLOGNE
Kaizen has been gaining a reputation as one of Cologne's premier Sushi spots ever since its opening in June, 2016. At this Lindenstraße staple, authentic Japanese cuisine is prepared by traditionally trained Japanese chefs in a modern ambiance. For those seeking something other than raw fish, teriyaki and veggie options abound.
Lindenstraße 67, 50674 Köln
Neuehrenfeld has a new address for sushi of the finest quality. Miyu may boast a wide variety of Asian-fusion options, but the focus is clearly on the sushi. First-class fish, homemade sauces and a passion for creativity make the sushi at Miyu a must-try. It isn't the cheapest sushi in Köln, but you taste what you pay for.
Eichendorffstraße 27, 50825
This local staple in the heart of Cologne is the first recommendation of most sushi purists. The highest quality fish the city has to offer is served up in traditional Japanese style in an authentic, no-frills atmosphere. Reservations are recommended, as the place tends to book up in advance.
Benesisstraße 56, 50672 Köln
FRANKFURT
"Food should please the eyes first, then the stomach." This quotation attributed to Johann Wolfgang von Goethe serves as the motto for Europaviertel's Gorenshi. Here you'll find fusion cuisine uniting the very best of Japanese and Vietnamese cooking. The sushi menu is vast, the fish is fresh, and there's plenty more to choose from for those who have eyes for something a little more cooked.
Europa-Allee 157, 60486 Frankfurt
At Kaoru, an overwhelming selection of modern and traditional sushi meets a world-class Japanese sake and beer list. Since opening their first location in Mannheim in 1999, Kaoru have expanded into a chain of six restaurants spanning three German states, all of which are among the most—if not the most—highly regarded Japanese restaurants in their area.
Osthafenplatz 4, 60314 Frankfurt
Head chef and owner Hiro Sakai is one of a kind among sushi masters in Germany. After gaining over thirty years of experience in Japan's sushi industry and opening five restaurants in the greater Tokyo area, Chef Sakai decided to take his expertise to Frankfurt. At The Sakai you'll find yourself treated to a sushi course curated by the chef himself, as well as to one of Germany's most extensive selections of Japan's national drink: sake.
Hedderichstraße 69, 60594 Frankfurt
HAMBURG
When it comes to sushi, Jam Jam is Hamburg's best kept secret. Owing to a mixture of no-frills decor and almost suspiciously fair prices, this local favorite manages to avoid the curse of hype and its trademark symptom: long lines. High on quality and service, low on cost and ostentation—what more could a weary traveler want? Go eat sushi like a Hamburger 😉
Wandsbeker Marktstraße 141, 22041 Hamburg
Oh, no—I hope I don't fall in love with Ono! Too late, because here everything is delicious. The price range is on the upper end of mid-range, and that's exactly what you can expect in terms of quality: fresh ingredients lovingly prepared in an inviting atmosphere. Ono is no Michelin Star contender, but if you're anything like me, that's actually a positive attribute for a higher-end restaurant. In my opinion, Ono's upper-middle-range niche is precisely the sweet-spot when it comes to most cuisine: you pay for the quality of the food you receive, and you're spared the extra fuss and pretense. Expect to pay around 14€ per plate and to be turned away if you haven't made a reservation in advance. Nothing personal, they just fill up fast.
Lehmweg 17, 20251 Hamburg
If all-you-can-eat sushi is your game, then Tokio Sushi is your playing field. Twice a week, you can zig-zag your way through their menu to your heart's content for just 18€. And get this: the sushi's actually good! You'll be hard pressed to find a better price-quality ratio anywhere else.
Osterstraße 167, 20255 Hamburg
MUNICH
This place is such a beloved hidden gem that I almost don't want to share it. If you find yourself with an appetite for sushi in Munich's old town center, then Maggie Sushi is your destination. Traditional and value-oriented, this shop near the famous Viktualienmarkt is a local institution. The prices can't be beat, especially for a place so centrally located—unless, of course, you show up on the weekend for one of their two-for-one specials. Come for the food, then feast your eyes on the delightful, Manga-inspired decor.
Westenriederstraße 13, 80331 München
For many Müncheners, it's a staple of the weekend ritual: after a strenuous workout or an extended shopping trip between Marienplatz and Stachus, locals in the know flock in droves to Altstadt-Lehel's Sano for a fortifying and cleanly-lit sushi lunch. No, you can't place a reservation—and yes, you can count on a waiting time of about 30 minutes at most times of the day. If patience and curiosity outweigh your appetite, though, then Sano is absolutely worth the wait. Insider tip: ask for an order card and start filling it out before you get seated.
Brunnstraße 6, 80331 München
Before he opened Sushiya Sansaro with friends in 2007, Alexander Reinelt earned a degree in Japanese Studies. His vision for the restaurant was simple: to bring traditional, high-quality Japanese sushi to a broader Bavarian public—and he succeeded! Come for the sashimi, nigiri and chef's special rolls, then do as the regulars do: order a plate of spicy shrimp tempura for dessert. In warm weather, enjoy Sansaro's beautiful courtyard in the Amalienpassage.
Amalienstraße 89, 80799 München